Back to Projects List
Closing the Health Gap: An Energy-Balance Approach to Bridging Early Childhood Obesity Disparities Among At-Risk Children in Rural and Urban Nebraska
---
Abstract
Early childhood is a critical developmental period for obesity prevention. Children observe both healthy and unhealthy behaviors in their surroundings and develop food preferences and physical activity habits.
Research shows that since 1980, childhood obesity has more than doubled from 7% to 18% in 2012 among children ages 6-11. Among children age 12-19, childhood obesity has quadrupled from 5% in 1980 to 21% in 2012. The increases are even more significant among children in low-income homes, and among ethnic minorities.
This study addresses the need for early childhood obesity prevention by developing a curriculum focused on both nutrition and physical activity among young, at-risk children in rural and urban Nebraska.
Researchers will collaborate with participating community partners, schools, childcare providers and at-risk families to examine nutritional and physical activity behaviors among at-risk children and their families. The goal is to better understand children's motivations and barriers to healthy eating and physical activity.
Researchers will use emerging digital technology and data science to implement the curriculum. The research team will develop a virtual reality game to teach children about nutrition and physical activity. The game is designed to run on a VR headset: Google Cardboard glasses.
Children will be asked to play the game twice a week for four weeks. The study's goals are to enable children to control their learning experiences and to help reduce childhood obesity by addressing barriers to healthy eating.
---
Rural Education & Communities, Psychosocial Development & Social-Emotional Learning, Early Education & Development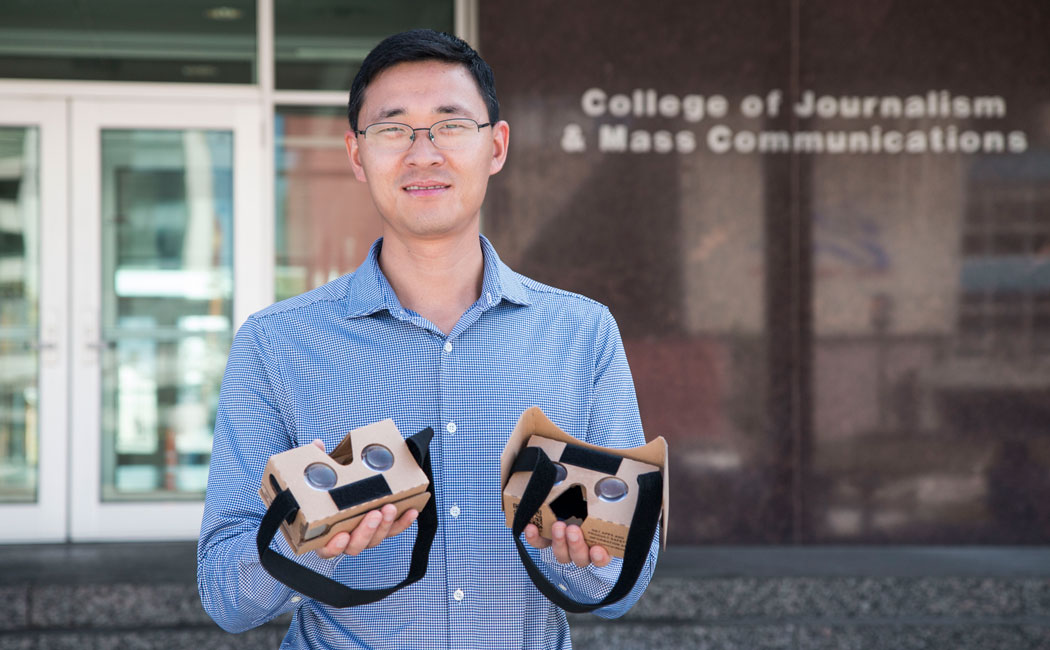 A Nebraska research team led by Changmin Yan, associate professor of advertising and public relations, has created a virtual reality game that teaches kindergarten children about nutrition and physical activity.
Media
News Articles
Photo Gallery