Back to Projects List
Nebraska STEM: Supporting Elementary Rural Teacher Leadership
---
Abstract
NebraskaSTEM is a Track 3 Master Teaching Fellows (MTF) proposal among the University of Nebraska-Lincoln, Nebraska Educational Technology Association, North Bend Central Public Schools, Longfellow Elementary School and Harvard Public Schools. NebraskaSTEM aims to enhance the capacity of Nebraska teachers to facilitate high-quality, science, technology, engineering and mathematics learning opportunities for K6 students attending rural Nebraska schools.
Fifteen highly qualified, certified elementary teachers who currently teach or intend to teach in high-needs, rural Nebraska schools will be selected to become NebraskaSTEM NSF Master Teaching Fellows. During the first year of the five-year fellowship, at least 12 teachers will complete a master's degree in elementary education, with specialization in STEM, with up to three teachers who already possess master's degrees completing STEM and leadership graduate coursework. Ongoing mentorship and professional development during years two through five will provide MTFs with opportunities to apply and share their knowledge and skills as they implement high-quality STEM instruction in their classrooms and serve as STEM leaders in their local schools and communities.
The overall goal of NebraskaSTEM is to enhance STEM learning for K-6 students in rural Nebraska schools.
This goal will be operationalized in the following three objectives:
Create a rigorous 14-month Master of Arts (MA) degree program in Elementary Education with specialization in STEM education.
Recruit and support 15 exemplary Nebraska K-6 teachers who will enroll in the MA Elementary STEM Education program and fulfill a four-year teaching commitment in a high-needs rural school in Nebraska, while receiving ongoing mentoring, professional development, and a salary supplement.
MTFs will develop and implement STEM initiatives in the rural schools in which they teach, and disseminate the models and results of these initiatives as part of MTFs' ongoing commitment to rural teacher leadership in STEM.
In addition to producing 15 NebraskaSTEM MTFs, this project will directly impact the students those teachers serve (approximately 300 students per year, totaling 1,500 K-6 students throughout the duration of this project). MTFs' STEM initiatives during years 2-5 will also impact local and regional stakeholders, to be defined on a project-by-project basis in STEM initiative proposals. Developing elementary STEM leadership capacity in rural Nebraska schools is intended to impact MTFs' colleagues within their schools, districts, and regions. Teachers throughout Nebraska and the nation will benefit from the dissemination of scholarly publications, conference presentations, and professional development related to NebraskaSTEM programs and related STEM initiatives in rural Nebraska schools.
Additionally, NebraskaSTEM MTFs and the project team will establish and maintain a website for outreach and dissemination from the project, and develop videos during years 2-5 to document and share information about the NebraskaSTEM master's degree program and MTFs' STEM initiatives.
---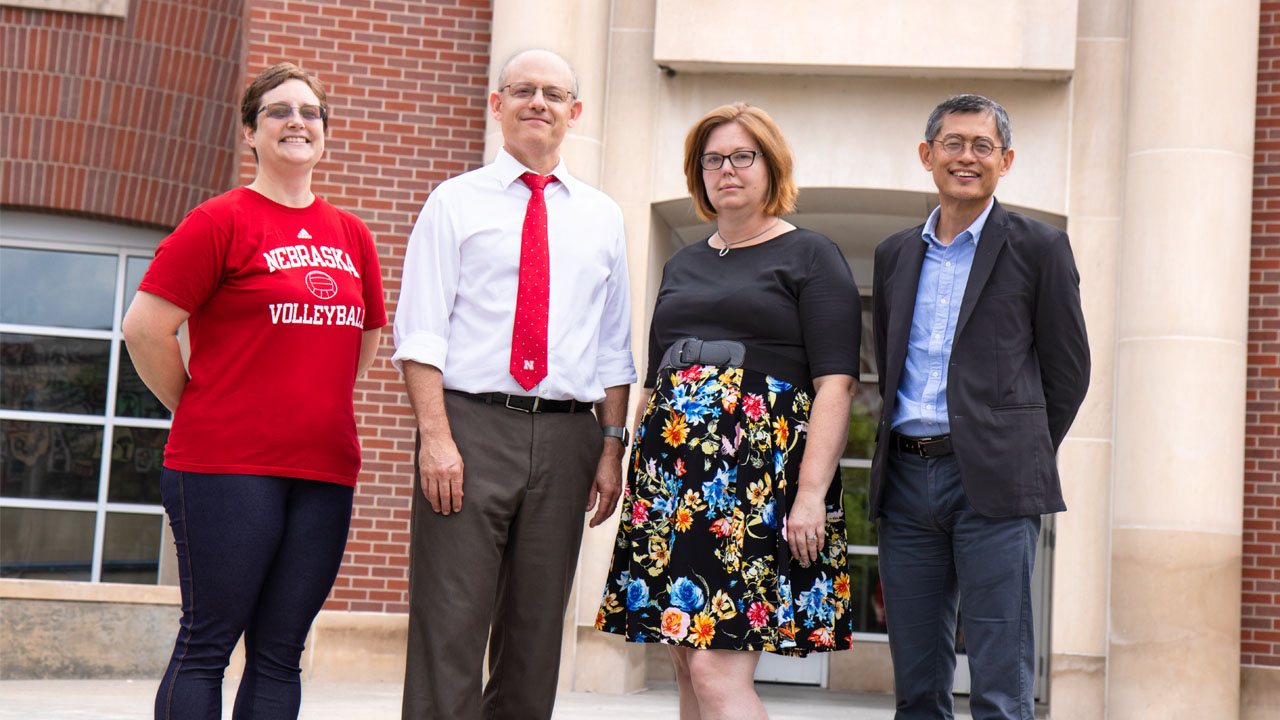 From left, Wendy Smith, Guy Trainin, Amanda Thomas and Leen-Kiat Soh
Media
News Articles
Photo Gallery